Why are so few people guessing who wrote what at the guessing poll over at

hd_smoochfest
? Those things are so much fun. My guesses are probably way off, and I didn't get to read anything from the second half off the fest--other than my wonderful gift fic, of course.
Free drabble/ficlet to anyone who correctly guesses what I wrote! (At the comm, not here ;)
Also, Smutastic Awards is back for another round! I got a shiny banner last year, but never picked it up because I disappeared from LJ for a long time, and by the time I went looking for it the maker had deleted it from her photobucket account. *sniffle*
There's always this year, right :D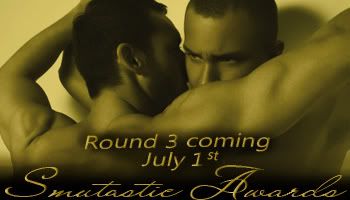 Awarding the best Harry Potter SMUT since 2008!
ROUND THREE COMING JULY 1ST
Are you ready?