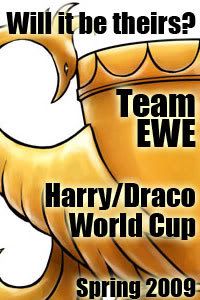 artwork by

red_rahl
banner by

elanorofcastile
I'm so excited
and nervous
about this.
I haven't been talking about RL very much lately, so most of you probably don't know that THIS IS MY FIRST WEEK IN BUSINESS SCHOOL! Last year, I decided not to continue pursuing my PhD in Germanic Studies because I hate teaching, jobs are scarce, and it doesn't pay very well. I'm now getting a second degree in Accountancy. My schedule is very busy and the classes are difficult, so I won't have much time for writing
as if I've ever updated frequently
. I've already gotten a good start on my

do_me_veela
fic and hope to finish it soon, but when I do, it will probably be time to start working on

hp_springsmut
. So if I'm not posting fic anytime soon, it's not because I've lost interest in LJ, but because I've signed up for too many fests, which are now my second priority.